Thor
Although the legend of the hammer-wielding Norse God Thor goes back as far as recorded history, the Thor films brought him squarely back to modern days.
I even remember him showing up in one of the early Tomb Raider video games.  Pounding the floor and making it tough for Lara Croft to climb up some obstacle or other…
I still can't hear thunder without thinking of Thor.  And if you're familiar with runestones, Thor's name is invoked on a bunch of them.
Thor's name and image are both widely represented in art and poem, and (although we tend to think of Thor as the fierce warrior), he was also noted as the God most associated with well-being of the family and community, as well as fertility and preservatio
n of the seasons. So, he was really just a sensitive guy trying to protect home and hearth.  Right?
Perhaps the first thing people think of when they think of Thor is that big ole hammer of his.  It's very distinctive in shape and keeps showing up at Scandinavian burial sites.
While the costume above is the upper-end variety, if you'd like to try to recreate Thor's costume at home, you're going to want to at least buy the hammer.  Which you can buy separately from the costume. It's not that expensive and would be more trouble than it's worth to try to recreate it at home.  If you'd like to own one, get it here.
Apart from the hammer, Thor also has that fierce looking helmet.  Fortunately, that is also available as an accessory if you get one of the lesser expensive costumes (check below to see ALL of the T
hor costume options available for you.
And last, but certainly not least, we can't leave out Thor's scary-ass Sif Sword!
So, with or without the costume, you will be well on your way to your Thor costume if you have the helmet, hammer and the sword!
If you decide to go all in, though, you can find the Thor costume and all accessories on Amazon.
ALL THOR COSTUMES AND ACCESSORIES
If you find you want the costume, but not the upper-end cost of the "Prestige" costume, here are all the Thor costumes and props in one place. For adults or children.  Take your pick!
These are officially licensed Thor™ costumes and props.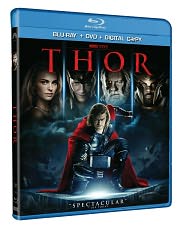 In case you haven't seen the movies yet (and would like to) you can find them all here (Blu-ray, DVD or Blu-Ray 3-D!)
Check out the Paramount Pictures trailer from the original.